SUSHI ANABA
Sushi restaurant in Nordhavn, CopenhagenDesigned and produced by Stokholm Normark in 2019

Behind the work and collaboration with head chef Mads Battefeld for our project 'Sushi Anaba' lays the shared enthusiastic interest in Japan, its culture and appreciation of quality, tranquillity,minimalism and timeless design. The contrasts within the restaurant make it a dynamicatmosphere to be present in, with its raw materials, the concrete floor meeting the massive sushicounter in solid wood.

This type of interior design is getting more and more popular, especially the philosophy of usinglocal goods, which also inspired us to make the whole interior out of a single Danish Douglas logfrom Langesø forest in Funen.

Throughout the whole project, the main focus has been on the dining guests and their gastronomicexperience, stimulating all senses, both visually and orally. The two key elements in the interiordesign of Sushi Anaba is the wood with its glow and the hard, solid contrete floor that greets theguests upon entering the restaurants first room, a spartanic decorated foyer with its radiatorshidden behind Japanese inspired covers.

The guests are met with the same aesthetics as they walk into the main restaurant. Here, in the center of the room, the massive counter with viewing to the harbor, creates a sense of nature, calmness and simplicity. At the back of the room, there is a longstairway, leading through the Shoji doors to the Tatami room, which is a private dining space.

The Tatami room is decorated after Japanese tradition with seating arrangement featuring a lowtable set on tatami flooring on special designed mats. Through one of the sliding doors, leadinginto the hall and the toilets, the same two-dimensional design and aesthetic presents itself to theguests, never compromising on the total experience of dining at Sushi Anaba.




Photo by Mads Krabbe
ALCHEMIST
Two michelin star restaurant Alchemist. Located at Refshaleøen, Copenhagen Design and produced by Stokholm Normark in 2019-

For the restaurant Alchemist, Stokholm Normark developed a lot of appliances that is used in theserving area as well as in the kitchen.

For this project, the items had to be both functional andpretty to look at. The aesthetics were very much inspired from Japan, with focus on simplicity and balanced proportions as well as functionality and respect for the natural materials.

The collaboration with Alchemist began in 2019 and is an ongoing project involving maintenance of products, designing items and producing incoming orders as the restaurant continues to evolve.

AT THE COUNTER
Located at Bopa Plads in Østerbro, Copenhagen. Designed and produced by Stokholm Normark in 2018

In 2018 Stokholm Normark was contacted for the project At the Counter by Emil Glaser, owner of Juno the bakery. The task was to design the coolest coffee counter in Copenhagen. That led to the work on the entire interior. The challenge where to make a room where as many as possible could sit together and not disturb the natural flow of people coming to the counter. The main materials we used where ash and steel.


The furnitures for AT THE COUNTER we designed and build where:


Coffee counter, with integrated coffee system and a big kumiko art work on the front.

Ashi bench, a 2,4 meter long bench.

Water cabinet, with integrated water tap and glasses.

Tables, in solid ash.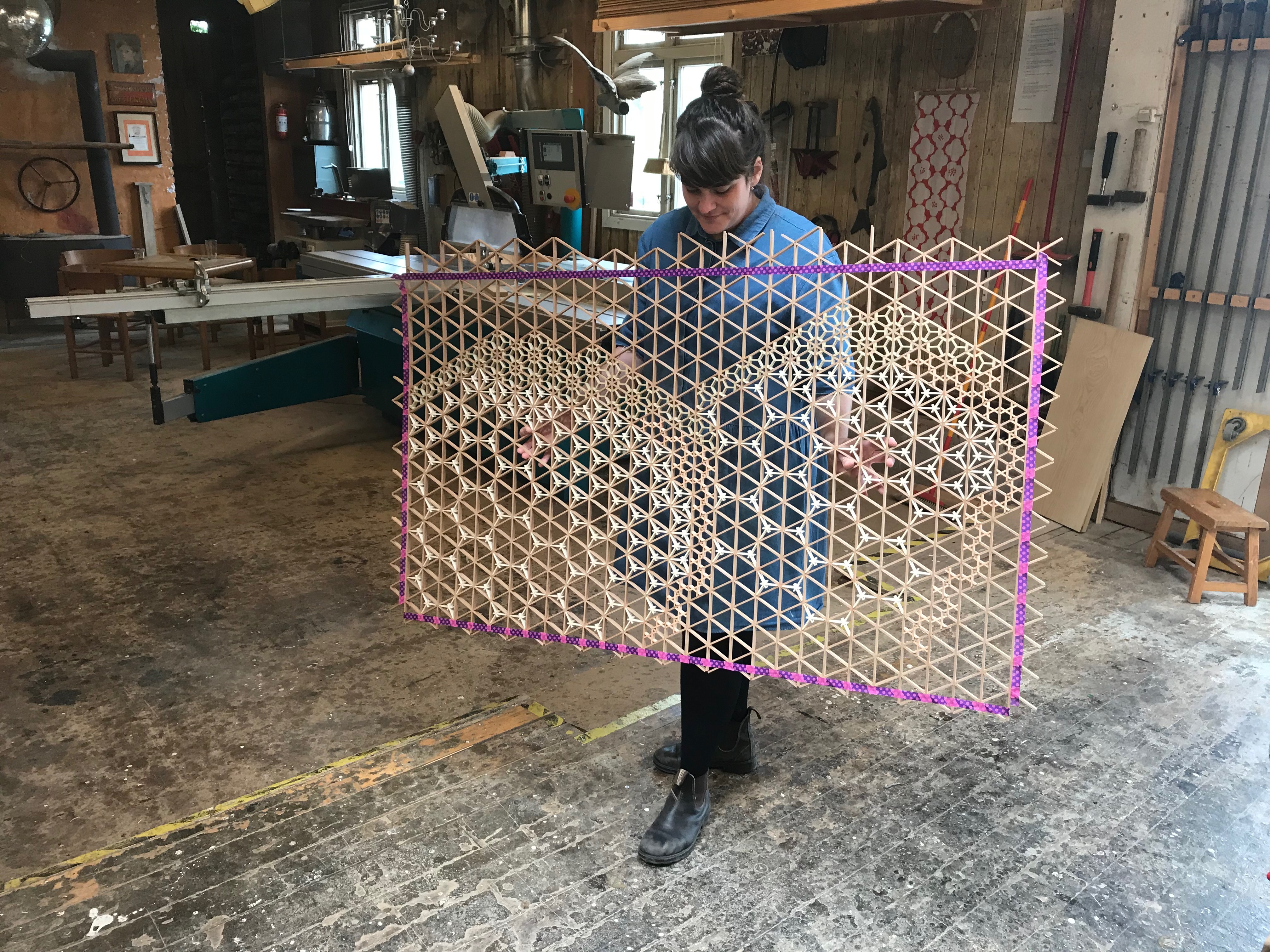 Photo by Anders Nyberg
STOKHOLM NORMARK
stokholm.normark@gmail.com
instagram:
@stokholm.normark
COPYRIGHT 2019
STOKHOLM NORMARK